Taylor Applegate of Hughson High School FFA was a bit nervous as she stood with her Holstein waiting for Advanced Showmanship judging Wednesday afternoon at the Stanislaus County Fair.

"She's a bit crazy because she just had her baby a week ago," said Applegate, who has shown at the fair for four years now.
The two-year-old cow seemed to do well as the judge watched as Applegate and other participants control and show their animals. Eye contact is important, as is the ability to set up the legs of the creature, said the Hughson teen.
It was a scene repeated numerous times at the Stanislaus County Fair, which ended its 10-day run on Sunday evening.
Central Valley FFA posted an impressive showing at the County Fair. Top performers were Lizbeth Martinez for taking first place in Dairy Novice Showmanship. Belle Martinez placed first in Beef Novice Showmanship, and Kaley Denniston won Supreme Grand Champion for her pair of meat chickens.
Central Valley FFA members showed 14 market hogs, with Regina Rico placing second in her class and Brian Winchester placing third in his class.
Six market lambs shown by CV FFA members included Brandon Ramos' animal placing third in novice showmanship.
Six meat goats were brought to the Fair by the CV group, which included Emily Hill who placed 10th in Advanced Showmanship.
A total of 15 Central Valley FFA members participated in exhibiting plants and vegetables they had grown and five members showed meat chickens Arianna Gutierrez showed five fryer meat rabbits. 
Ceres High School ag teacher and FFA advisor Mardel Runnels said the school took 14 swine and one lamb entries to the fair this year.
"She's a lovable sheep," said Yenifer Zapien, the only Ceres High FFA member who raised a sheep for the fair.
Raised on the CUSD Student Farm near Hidahl Elementary School, the animal proved to need more muscle but won a market ribbon.
"That's means I can sell it," said Yenifer, who graduated in June. "It's going to break my heart. I've had it for two months. I don't want to sell her but I have to. People say, 'Put it in your room.'"
Zapien said she didn't know about FFA until her junior year at CHS and got a job as a senior and had the money to buy the animal.
"I had a really difficult pig this year," acknowledged CHS FFA member Dalia Martinez. "He just doesn't listen very well when it comes to walking and we likes to run a lot so it didn't go exactly the way I wanted it too. But for next year all I need to do is practice more (for showmanship)."
Martinez did capture second place in market show for her cross-breed hog. She sold the pig for $6 per pound and at 254, that's $1,524. With donations to cover her feed and housing costs at the CUSD student farm, her project put her in the black.
"I like everything about it, like training the pig and getting to bond it because every pig has like a different personality. Maple is the name of my pig and she is so cuddly and loving."
Lauren Cooper placed eighth in showmanship with her three-month-old Hampshire hog, which featured an Oreo cookie type color pattern.

She said the last pig she had for the 2017 fair was a bit stubborn which caused her to not grow as close as to her new pig.
"Last year I actually cried a little bit but this year I think I'm going to be upset when she's gone," said Lauren, who has raised her the last three months.
Isaac Harkrader of Hughson 4-H won Reserve Champion with his 263-pound swine, an animal he has raised since March at his family's rural farm. He said he beat out 10 other pigs to win the title.
"It's a real fun experience getting to see the pig grow and stuff."

Isaac Harkrader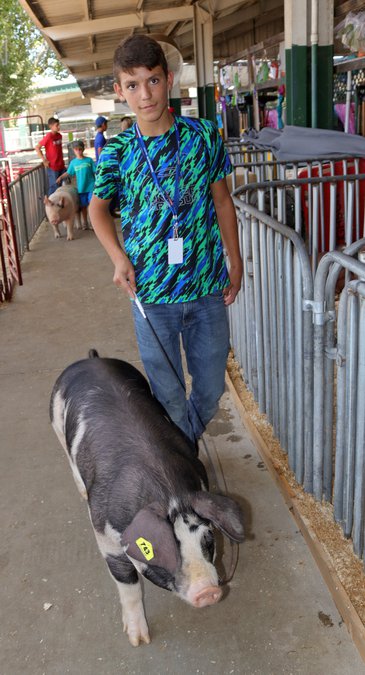 "It's my second year (in 4-H)," said Harkrader, an eighth-grader at Ross Middle School in Hughson. "It's a real fun experience getting to see the pig grow and stuff."
Donations and profits from last year's animal helped him pay for feed and other costs.
"We don't do it for the money. We do it more for the experience, having the responsibility to watch and care for it."
The end of the fair brought an end to his project since he sold the pig. Isaac said it's hard not to get attached to a 4-H animal after caring for it for five months.
"You really have to pick a name that you can let go; I just named my pig Buster. You ain't supposed to pick something sentimental because it'll mean something for you."
Harkrader said he would like to pursue a degree in agriculture and a career in livestock.
Ceres 4H Poultry Project Leader Rebecca Rantz, working with co-leader Tarron Roberts, spelled out the accomplishments of youth members at the County Fair.
Ceres 4-H has two Mini members (aged 5 to 8 years old). Tatiana Castaneda showed her market turkey named Valerie and Thalia Castaneda showed her Exhibition chicken named Cupcake.
Colin Hill placed 8th place in Intermediate Showmanship, third place in Meat Pen Chickens, won two first place ribbons for his Exhibition chickens, Best of Variety and Reserve Best of Variety and first place eggs.
Alexandra Potts won sixth place Advanced Showmanship, received two first place ribbons for her Exhibition chickens and won Reserve in Breed. Her sister, Jessica Potts took fifth place in Intermediate Showmanship, and first place and Reserve in Breed for her Exhibition chicken.
Hannah Rantz captured first place and Grand Champion in Meat Pen Chickens, third place in Intermediate Showmanship, first place for her Exhibition chicken and fifth place for eggs.
Michaela Rantz racked up awards that included two first places and Reserve Grand Champion in Meat Pen Chickens, fifth place in Advanced Showmanship and first place for her Exhibition chicken. Her eggs won Reserve Grand Champion and both first and fifth place ribbons.