Two aspiring alternative hip hop musicians who grew up in Ceres – one now living in Los Angeles – have just released a collaborative project born of the 2020 pandemic lockdown.
Nevin Shoker, 24, whose rap name is ibeshocker, and Kevin Elkin, 27, who goes by Kevvie3TM, collaborated for the mini-album "Run on Sentences." Shoker, a 2014 Central Valley High School graduate, said the Extended Play's main themes are insecurities and anxiety of independent artists striving for success as well as holding onto hope and running on optimism.
"We're not super well known still," said Shoker. "We're still the underdog and, you know, that's fine. We're still on our journey but the thing is we feel like the amount of progress that has happened since leaving Ceres to move to LA has been crazy."
They are getting noticed, however. VoyageLA Magazine published a Q&A with Shoker and the team was mentioned on several blog sites, including IndieHipHop, Rap Genius and Hype Machine. One song, "Melrose Blues," has been selected for the soundtrack of the independent film, "Pride Jewel," scheduled to be released this year by 4D Legacy Studios. The song centers on the artists' feelings of anxiousness as they see the ring of success in the highly competitive world of music so close yet out of reach.
Shoker was connected to the producer through one of the film's actors, Sebastian, who hails from Modesto. The director asked Sebastian if he knew of any talented artists who could add to the sound track.
"Sebastian reached out to me and connected me to the director and now our song is in the movie, all just because we're all from the same hometown."
"Run on Sentences" mixes hip-hop, trap, and cloud rap seamlessly while highlighting the sacrifice that comes along with the journey to make it to the top. The lyrics also touch on the current climate of the world and were completely written during quarantine in Shoker's Los Angeles living room which he's rented since February 2020. Inspired by cheap whiskey and endless dreams, the duo created songs like "Locked In" which is a double entendre for being locked down in their goals and studio activity, as well as the stay at home orders issued in LA County.
Shoker arranged for music videos to be shot for "Melrose Blues" and "Run on Sentences" on YouTube. They can be found by searching for the Open Studios channel. The EP can be heard on all streaming platforms, including Spotify, Apple Music and Amazon Music.
Breaking into the music industry is tough, as their lyrics suggest, and while they are not making a lot of money in the industry – yet, hopefully – Shoker said he "wouldn't trade the experience for anything."
"EDD has been amazing and also I rent out my studio for independent artists. So I charge for studio time and I also provide them with mixing and mastering services."
Shoker feels that one of the many bumps in the road of his career pursuit is his ethnicity. Few, if any, Indian-American rap artists are well known.
He recalls how his peers at Central Valley High were dismissive of his foray into the realm of hip hop because of his ethnicity.
"They didn't take it seriously because they saw only one type of ethnicity being allowed to make this type of music; which now if you look at now at modern-day hip-hop that's totally false," said Shoker. "That initial negativity I encountered at an early age when I first started putting out music would've been enough to make people stop."
Besides race, Shoker feels that his style and content also make him stand out.
"I'm different from the competition. My music is different. I talk about different things. I can go from writing a song about a girl to writing about driving around in a Corolla still – stuff that you don't typically hear about in modern-day music."
With his tats and demeanor, Elkin has no problem pulling off the hip hop aura.
"It's also a lot of who I am," said Kevin. "I think with the style of music I make it kind of cuts through."
Shoker created Open Studios in Ceres in 2018 with friend Alexis Galindo after working and scrimping and saving to slowly invest in equipment. Galindo was pulling a paycheck at Modesto's Texas Roadhouse while Shocker worked at In-N-Out Burger in Modesto and Costco in Turlock. Shocker said his studio's professional quality equipment enables him to pay the bills by charging other artists.
Shoker, the son of Dalwara and Laxmi Shoker of Ceres, traces his career aspirations back to his days at Blaker Kinser Junior High School when he began writing poetry – mostly for girls.
"I always loved music. My mom was a singer in the church that she went to and music was always around in my household. So I kind of took that as a permission slip that it's cool to appreciate the art form and be surrounded by it. I was always huge into listening to music. I was just addicted to writing poems and I knew I wanted to be creative so it went from writing poems and turning into rap, which I feel like rap is an acronym for rhythm assisted poetry. I just had so much I wanted to say. I love music and I love that I am able to record something and it will exist forever after I hit the stop button on the recording."
Both his parents initially tried to steer Nevin away from a pipe dream career with uncertain financial security, but are now largely supportive of his efforts.
"It took a lot of convincing on my part to get my parents to come around to the idea of me chasing music full-time. But once they finally did, it actually was the best thing because they convinced me, like hey, instead of staying in Ceres and pursuing music, why don't you take the five-hour drive and go to LA and see what you can be out there? Honestly I won't look back. It's been amazing since I moved."
Keviee, who also began writing poetry in his years at Ceres High School, felt the same negativity about his designs for his future.

"I just think in general coming from a small city where there's no opportunities or people doing stuff in that realm, it's kind of like everybody says you're crazy until you make it; and then they tell you you're a genius. Anybody who wants to go against the grain and chase a dream has more counted against you than with you."  
Music is what drew Nevin and Kevin together. Shoker was attending school at Cal State Stanislaus in Turlock when he created a platform he called the Cypher Factory on campus radio station KCSS 91.9 FM. Elkin showed up. Although both grew up in Ceres they had never previously met. Shoker and Elkin clicked and decided to collaborate. After Shocker graduated from CSUS in 2019 with a BA in mass media communication and psychology, he made the move to Los Angeles to expand Open Studios, and to also write, mix, record and market tracks with Elkin who is now studying communications at Modesto Junior College.

"After we had met through the Cypher Factory, we had kept in touch and discussed working on some music together," explained Shoker. "One time, when I was visiting family in Ceres, I came by to Kevvie's house to hangout and we started writing a song together off a Bluetooth speaker in his living room. After we were done writing verses, I had told him, 'Okay, if you want to do this song, you have to come down to LA to record it.'
"We kept trying to figure out a day for him to come out to LA but he was always busy because he was working a job that he hated. A week later, I randomly get a text from Kev asking me how serious I was about doing this whole music thing and I had told him I am 100 percent in. Ten minutes later he called me and told me that he had put in his two weeks' notice and he was on the way. He even mentions this story in his verse to our song called 'Locked In.'"
Ceres is still home to Elkin but he travels to LA to spend weeks at a time with Shoker to record music and shoot videos. While he would rather live in LA producing music each day, he's also continuing to study at Modesto Junior College to earn a degree in communications.
"I'm continuing to balance school and music," said Kevin. "I think that was always in the back of my mind, to always have a Plan B. So I'm trying to get my degree and pursue this until that moment where we can sit back and say, 'we did make it.'"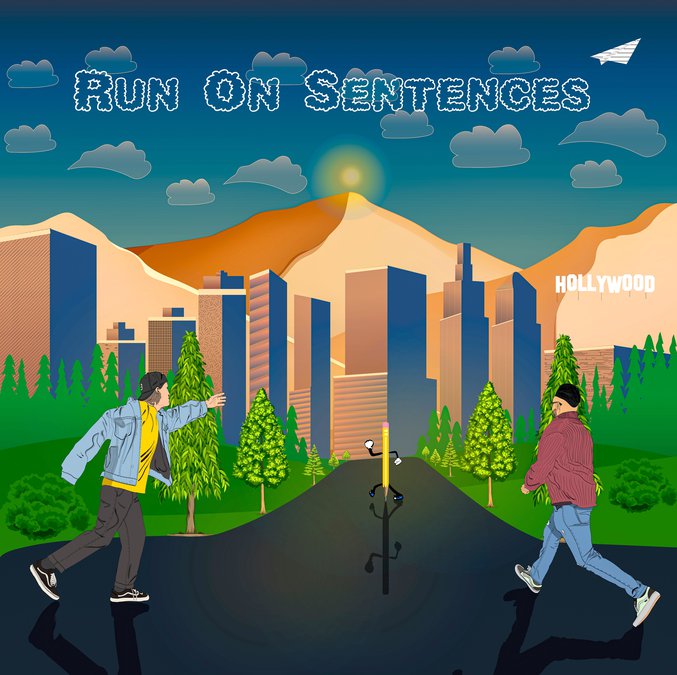 https://youtu.be/mfBOSv6SVTs