Marge Derby's decades of service to the community and her passion to make life better for others prompted the Ceres Chamber of Commerce to award her the "Citizen of the Year Lifetime Achievement Award" during Friday's 53rd annual Ceres Community Service Awards & Installation Dinner."

The event also gave the Chamber an opportunity to install new Chamber board members for the new year.
Scott Siegel, the 2020 Lifetime Achievement Award recipient, introduced Derby as one who "gives our community a heartbeat and reminds us of our history. She has continued to advocate for those less advantaged than others. Her work at the Red Shield providing services and resources to the youth in our community is extraordinary.
"Marge is a consistent advocate for others. Her passions include the elderly as well as the disabled as her son Steven required assistance navigating his educational journey. She has given of herself from her early years as her family's history is part of our community today. Marge Derby is the person you call when you need help and resources. She is a strong advocate for those who don't have a voice as well as an educator who looks past one's disabilities to help them achieve success.  She has continued her passion in the community and still volunteers to this day for the programs we so enjoy."
Derby has served faithfully on the Salvation Army Red Shield Center Board in south Modesto and has been engaged heavily in fundraising. Marge started a scholarship fund in memory of her late son Steven to provide scholarships to current or former Red Shield program youth.
She has been active in the Community Branch of behalf of the Red Shield
Advocate for elderly community members, assisting them in connecting with services and resources.
As a retired Caswell School resource specialist, Marge served as strong advocate for her students, often providing aid and clothing to those and their families in need.
She continues to remain a constant supporter of disadvantaged families and financially struggling students.
"She has always had a keen eye at not only helping those in need but helping many who themselves were then able to lift themselves up to 'pay it forward' as their own situations improved," Siegel read of Derby.
Additionally, each Christmas Marge "adopts" needy families to provide meals and presents.
She has been instrumental in many causes assisting the handicapped including fundraising for the program that constructed the therapeutic pool at Sonoma Elementary School in Modesto.
She has been a member of PEO, a philanthropic education organization that raises money to give scholarships for women's education locally as well as nationally
Derby has been a past recipient of various teaching awards given by both Ceres and Stanislaus County schools.
She is a former court-appointed special advocate for youth and a past board member of Howard Training Center and United Cerebral Palsy of Stanislaus County.
She has been a coordinator of the annual Ceres High School Class of 1953 reunion which includes many of Ceres' original families.
Distinguished Service Award
Shane and Kim Parson, who routinely give back to the community, whether it's by hosting events at their arena to help spur the local economy or to fundraise for the Ceres school district, or by donating food for events like the community  Thanksgiving Dinner or the Chamber's Ag Luncheon, were bestowed the Distinguished Service Award.
Shane has also helped expand business in downtown. He recruited Flawless Salon for downtown, and also assisted Blaker Brewing to open its second location on property he owns in Merced.
His wife Kim holds down the fort and runs their multiple businesses.
The couple provides the large downtown lot for the community garden, offers use of their San Francisco cable car for trolley rides down Christmas Tree Lane, and has, in the past, provided hay for horses displaced in California wildland fires.
Volunteer of the Year
The Soroptimist International of Ceres was bestowed with the "Volunteer of the Year" award.

During the past year, Soroptimist International of Ceres continued services to women and girls in our community through various programs.
The service club provided "Live Your Dream" education and training awards to women to further their education. They also provided "Dream It Be It: Career Support for Girls" to over 30 girls online during the school year. Due to the ongoing pandemic, most of the student programs were presented through Zoom to keep the health and safety of the students a priority. 
SI Ceres also provided holiday cheer to a local family. SI Ceres has been part of the Ceres community for almost 50 years and appreciates the ongoing community support.
Soroptimist was formed in 1921 in Oakland, at a time when women were not permitted to join service organizations. The name, loosely translated from Latin, means "best for women." Today, there are about 30,000 members. There are five federations that make up Soroptimist International, which has clubs in more than 120 countries throughout the world.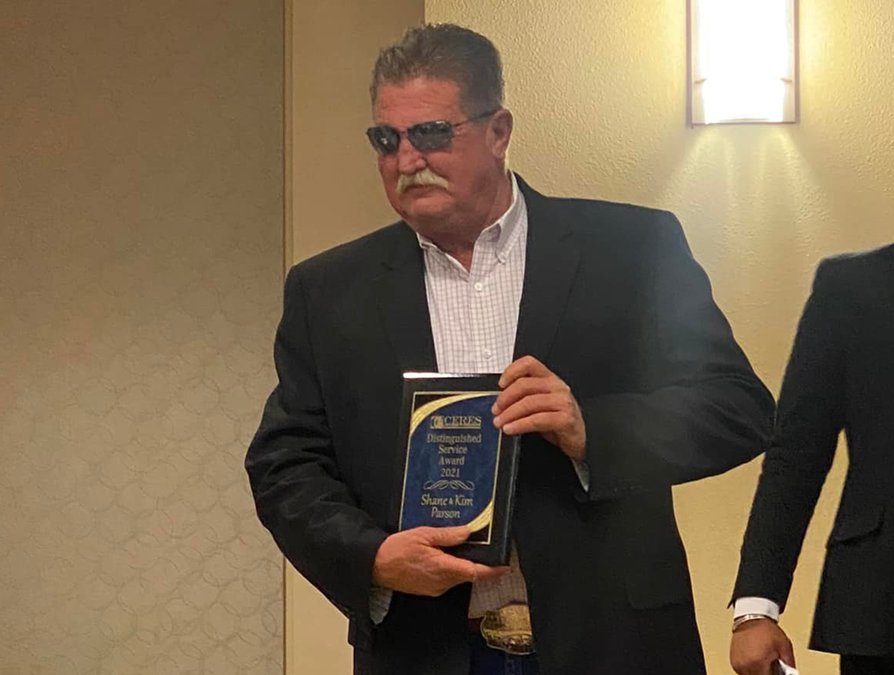 Young Citizen of the Year 
Gurmannet Bahia has been community and others minded, causing the Chamber to honor her as the "Young Citizen of the Year."

Bahia was noted as extremely dedicated to her academics, school and the community. She is involved in clubs on campus, is captain of the tennis team, and is president the Associated Student Body.
Gurmannet's activities have not detracted from her academics; she has successfully completed 3 Advanced Placement (AP) courses and is on her way to complete an additional four. She has maintained a 3.8 GPA throughout high school and will continue pursuing her education after high school.
Her community activities include membership in the Interact Club and assembling care packages for the less fortunate in Ceres and writing appreciation cards for administration and staff. As a member of California Scholarship Federation (CSF) she has sent holiday cards to residents of the retirement homes. She has volunteered to hand out candy at the Trunk or Treat event. She has also served as a volunteer at Doctors Medical Center, Sikh Temple of Modesto and at the Virginia Parks Fall Harvest Festival. She also worked on the G.S Bahia Toy Drive to collect and donate toys and clothing to 75 kids each year.
"Small Business of the Year"
California Landscape Supply of Ceres was honored as the "Small Business of the Year."

In 2016, brothers Ryan and Nick Thornberry took over the family business, formerly known as By the Yard Concrete & Materials, and rebranded it to California Landscape Supply. It has fast become one of the most impressive businesses in the region for landscaping needs.
The family business started in the 1960s when Marshall Thornberry Jr. came to Ceres and opened a concrete business that he passed down to son Ken. He operated D&L Concrete for over 20 years before handing the reins of the business over to his sons Ryan and Nick.
The business has grown into a full nursery with trees, shrubs, bark, topsoil, sand river rock, crushed gravel, sod and grass seed. They also sell turf, stone, pavers and ready-mix concrete by the yard.
Last October, the crew at California Landscape took time on their day off to give the children of Ceres Youth Baseball a better and safer field to play on. They also played a huge part in renovating the infield of John Thurman Field, home of the Modesto Nuts Minor League Baseball Team.
Large Business of the Year

Sunbelt Rentals is one of Ceres' larger employers and one of the city's top sales tax revenue generators, and was named "Large Business of the Year" for also giving back to Ceres as a corporation.

Sunbelt Rentals partners with the Gary Sinise Foundation and its R.I.S.E. (Restoring Independence Supporting Empowerment), First Responders Outreach, Snowball Express, and Avalon Network programs. Sunbelt supplies the necessary equipment for each of the R.I.S.E. program's projects to the contractors working on the home builds at no charge.
The company also donates a portion of rental proceeds from co-branded Gary Sinise Foundation equipment and organize various localized fundraising efforts to help positively impact the lives of deserving defenders, veterans, first-responders, their families and those in need.
Additionally, Sunbelt Rentals and the American Red Cross share a passion for assisting with relief efforts in times of need. On top of financial donations to the Red Cross, Sunbelt Rentals often sends equipment to affected areas from locations throughout the country, to aid in relief efforts and to help stricken communities rebuild.
Sunbelt Rentals has been generous with local non-profits with donations and is a great resource to businesses throughout the Valley.
Legacy Award
The Legacy Award, which recognizes individuals and/or businesses that have contributed through service, support or volunteer efforts, to the Ceres community for more than 40 years, went to Ceres Drug Store.
The business has been a mainstay in downtown Ceres for generations, providing prescriptions and personal amenities since the 1930s. The business began in the 1920s by J.D. Anderson at the corner of Lawrence and Fourth streets, (now occupied by Steps Dance Art Studio). It was sold to Claude and Jean McKnight in the 1930s. During the 1940s, the corner drug store, with its old-fashioned soda fountain, was a very popular gathering place. Back then, the drug store sold magazines, newspaper, candy, cosmetics and cigarettes – until they were considered harmful.
The drug store eventually relocated to its current location on Fourth Street and eventually turned over to Roger Strange. In 1984, Strange sold the business to Ted Smernes, who was then at Payless Pharmacy. His wife, Debra, has worked side-by-side managing the store and offering a wide array of unique and beautiful gifts, fashion, and decor. They still offer free gift wrapping on purchased gifts.
In 2005, Ted's oldest son, Derek, joined his father as a pharmacist and younger son, Justin, joined the family-owned business in 2008 after earning his license as a pharmacist.
New board installed
The 2022 Ceres Chamber Board of Directors and staff recognized at the event were: President Brandy Meyer; Past President Herman Bhatti; Vice President Daniel Martinez; Treasurer Donna Lambert; Parliamentarian Paul Huckaba; directors Rajinder Bhuller, Kelly Cerny, Rahil Chadha, Jason Chapman, Vick Seckon and Eileen Stokman; City of Ceres Liaisons Christopher Hoem and Anthony Sims; Ceres Unified School District Liaison John "Jay" Simmonds; Auditor/Controller John "J.C." Curtis; Executive Director Renee Ledbetter; and Chamber office assistants Beth Stochl and Amy Medina.

Eric Ingwerson emceed the event. Mark Whitehead delivered the invocation, with a moment of silence to remember the late Pastor Adrian Condit.
Those who attended dined on food catered by American Italian Bistro (formerly Pastas Pronto) of downtown Ceres. 
Music entertainment was provided by Rick & Jeff featuring LaVonne.